Davis and Foley Honor Grandmother Through Senior Seasons
"At her funeral, with tears in my eyes I dropped a letter in her casket, vowing to make her proud," Spencer Davis, sr., said.  
Point guard Jackson Foley and swimmer Spencer Davis decided to dedicate their senior sports seasons to their biggest supporter, their grandmother, Nancy Melsa, who passed away in May 2017. Melsa was diagnosed with kidney cancer during Foley and Davis' junior year.  
"My grandma was a selfless supporter of her family members and friends," Davis said. 
Davis and Foley are cousins, their moms are sisters. A lot of people don't know this because they have different friend groups and are involved in different sports.
"Our grandma was always our number one fan," Foley said.
She went to every one of the boys' competitions, at times she would go to multiple in a single day.
"My grandma was constantly at our sporting events. Even after she was diagnosed with kidney cancer; my mom and her sisters would rush her from her chemo treatments in Iowa City to my swimming meets," Davis said. "Watching her wave to me from the stands surrounded by her daughters, as I'm getting ready for a race, meant the world to me."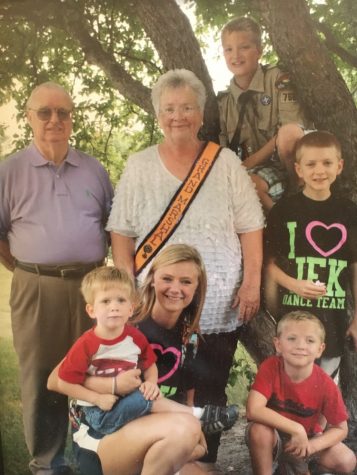 Melsa raised five daughters who were very active in Kennedy sports and clubs. Davis' aunt Michele was a state champion in track during the 80's. His aunts and mother have raised Melsa's grandchildren the same way she did. Melsa was a member of the Kennedy Booster Club and a volunteer security guard at Kingston Stadium.  
"Both Jackson and I wanted to continue that legacy by dedicating our senior seasons to her," Davis said.  
This basketball season and cross-country season, Foley always had his grandma in the back of his mind during all practices and games.  
"Both of us knew how close our family was and how big of a part of our lives and that our grandma would always be a part of our lives," Foley said. "I think that she helped us get to where we are today and it's the least we could do for her." 
Foley and Davis spent almost every day of their childhood with their grandmother. Melsa was the rock to their family and they all still have emotional moments from losing her.  
"It's weird to think, but losing our grandma brought our family closer," Foley said. "She will live on through us forever." 
Foley, Davis, and Seth Davis [Spencer's brother] all have the same pendants that say "Guardian angel protect us" to remember their grandmother.
Davis and Foley's seasons went well, but they weren't always perfect.
"It hasn't been the smoothest or perfect dream season, but things don't always go smoothly, and we still have an opportunity to make something happen here at the end of the season," Foley said. "I know that this season, no matter what, my grandma would be proud of our team and I."  
Although Davis had bronchitis and strep throat during state, he had his best overall season so far this year. At the district swim meet, Davis swam the 7th fastest 500 Free time in Kennedy history with a 4:56.2. In the 200, Davis got 1:48.9 and qualified for state in both. Davis was seated 17th and 22nd, respectively.
"I think one of the reasons I did so well at districts was because before each of my races I would tell her 'I'm going to make you proud'," Davis said. 
Some of Davis' favorite memories with his grandma were when he was a kid. He remembers how he would play outside, then run inside, greeted by the sweet smell of freshly baked chocolate chip cookies made by his grandma, and enjoyed the cookies with her.
Foley's favorite moments with his grandma was the alone time with her, whether it was eating lunch with her or seeing her after school. He cherishes those the most.  
"We both wish she could've seen our senior year let alone the rest of our lives, so we just wanted to make sure that we made her proud and this was one way we could do that," Foley said.  
Davis is still undecided on a college, but wants to continue swimming wherever he goes. Foley committed to Upper Iowa University.