Master Facilities Plan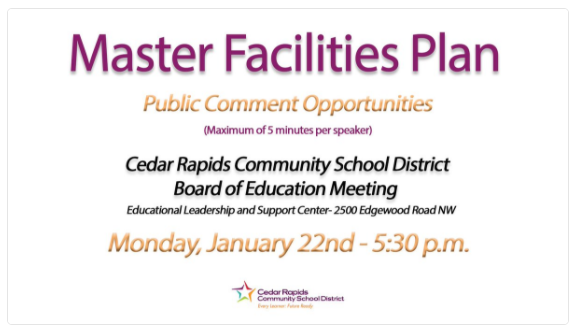 Updated: On Monday night, the school district voted on their new Master Facilities Plan.
It was a unanimous vote for the plan to go through.
Over the next 20 years, 10 elementaries will be rebuilt and eight others will be closed.
There were many pleads for the vote to be delayed, but they did not go through to the school board.
Coolidge will be the first to be rebuilt, starting sometime next year.
Master Facilities Plan Vote Tonight
Tonight, Jan. 22, the school district plans to vote on a new Master Facilities Plan.
The school board meeting, which is open to the public, will meet from 5:30 to 7 p.m. at the Educational Leadership and Support Center at 2500 Edgewood Road NW.
The plan calls for the district to close eight schools and rebuild or repurpose 10 elementary schools over several years to come.
The school board will possibly finalize its decision tonight. However, the school board members could choose to delay the vote.
For the past month, the public has been giving comments about the plan. More information about the district's proposed Master Facilities Plan can be found here.
The eight elementary schools to be closed are Van Buren, Taylor, Garfield, Kenwood, Nixon, Grant Wood, Truman and Madison. The district web site says that they will "work with developers and the city on next uses for either the structure or the property."
The first elementary building to close would not be for at least five years.
Ten elementary schools that would be rebuilt are Erskine, Arthur, Wright, Coolidge, Cleveland, Jackson, Harrison, Pierce, Hoover and Johnson.