To Stand or Kneel?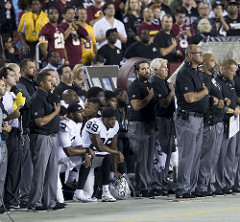 One of the most recent controversial topics is whether it's acceptable to kneel during the national anthem. For some, the choice to kneel is a peace protest against racial inequality and police brutality.
This movement first began during the 2016 NFL football season when Colin Kaepernick, San Francisco 49ers player, knelt during the national anthem to bring attention to why he was protesting.
Since then, football players, coaches and owners have taken a knee, across the country.
"The issue of kneeling has nothing to do with race. It is respect for our country, flag and National Anthem, NFL must respect this," President Trump said.
In my opinion, players are still respecting our national anthem while protesting.
While some people agree with Trump's statements, the NFL policy/conduct says that all players must be on the field or sidelines with their helmets in their left hand, having their full attention towards the flag, facing the flag and hold back from talking during the anthem. If they do not follow these rules, consequences will result in fines and/or suspension.
As it says in the conduct that players must be on the field, it says nothing against kneeling. So why are we thinking kneeling is such a bad thing in the first place?
As citizens of the United States they are protected under the first amendment's right to freedom of speech and petition.
The first amendment states that, "We have the right to express any opinions without censorship or restraint and to petition the government," per the dictionary.
"Me taking a knee doesn't change the fact that I support our military, I am a patriot and I love my country," NFL linebacker for the Buffalo Bills, Lorenzo Alexander said.
Just because you take a knee doesn't mean you don't support the military or don't respect this country. Others just want to see change in our society.
Some citizens believe that kneeling shows disrespect to our veterans, military and to our country. While players haven't faced any official consequences from the NFL, many have faced booing from the stands as a result of kneeling during the National Anthem.
In addition football viewership ratings have been down since last week's incident, during the Washington Redskins vs. Oakland Raiders game ratings were down by nine percent.
This raises the question as to why people are willing to ignore the fact that our flag code is being violated, but we are raising questions on kneeling or standing.
In the flag code we are not supposed to wear the American flag as a clothing item or on any athletic uniforms. Every NFL player has an American flag on their jersey. No one has mentioned or got into an argument over it.