Graduation Party Happenings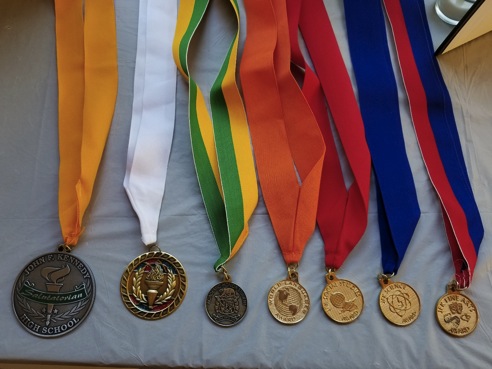 Graduation Season arrived, and with it graduation parties. Seniors commemorated their time in high school with pictures, food, and fun.  I decided to take pictures of these various graduation aspects in an attempt to show what a true grad party looked like. Each of the parties had excellent food (Jimmy John's and gourmet cupcakes) and I really enjoyed getting outside to be in the great summer weather. These parties were a great way to socialize, hang out with friends, and send the grads off in a great way.
The first I attended was Ashlynn Averhoff's which took place on early Saturday afternoon. Her party took place at her house deck and patio on a rather windy day. I ate lunch there and socialized with some of my friends before I proceeded to another afternoon graduation party. Jayden Lovell had her photos and achievements displayed inside her home, and a number of tables and chairs set up under a tent in her backyard where it was easy to enjoy the summer day. On Sunday, I attended (twins) Hannah and Connor Peterson's party. Indoors, they had photos and achievements displayed. Outside, there was a volleyball game and bean bag toss set up for backyard guests.