Deadline nears for summer school sign-up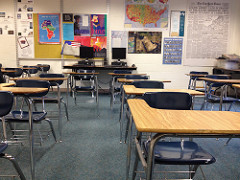 The school year is ending and summer is approaching. Deadline for summer school registration is the last day of school, Friday, June 2.
Summer school is available for 10th – 12th grade students who have failed a face-to-face semester course and need to earn back credit they lost during the school year.  No current freshmen are eligible for summer school.
Students are limited to one credit recovery course.
Classes are taught at Kennedy in the Upper IMC. Session dates are from Tuesday, June 6 to Friday, June 30. There are two different times a day that class is taught, time A is from 8- 9:50 a.m. and time B is from 10- 11:50 a.m. Students are only required to go to one class time per day of the session.
Attendance is mandatory and on June 6, if a student is absent, that spot will be given away.
The cost is $25 for students or the course is free for students on free or reduced lunch.
If interested in summer school, students should stop by the Kennedy counseling office for a packet of information and registration form.