Cougars Around the World
Cougars share where they are headed over the 2016-2017 spring break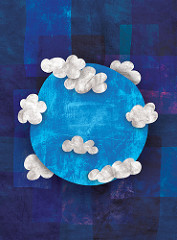 Spring break is fast approaching. For some, this is much needed time for relaxation, a chance to kick back and de-stress at home, perhaps hang out with friends in NewBo, or even just binge watch your favorite show. For others, however, spring break is a chance to travel far and wide, to experience new cultures and people, and to explore the world around them.
The Cedar Rapids schools' spring break is scheduled from Monday, March 13-Friday, March 17. Students' trip locations vary, as do the reasons for each trip — and of course, each is going to be filled with different activities.
Here's a look at where some Cougars are headed this spring break.
Carrie Adams, sr., will be going with family to visit her brother and his wife in San Diego, Calidornia.
"I'm excited because this will be my first time on a Commercial plane and it's been about 8 months since I've seen my brother. He just got back from overseas with the navy so I'm excited to hear about where he's been," Adams said. They plan to go snorkeling, tour Coronado hotel where her sister in-law works and go to an observatory. "Otherwise we will just be spending the time with my brother."
Members of Kennedy's Band and Choir programs are both heading to Florida's Walt Disney World and Universal Studios for spring break.
"I've always wanted to go to Disney World with my friends, so this band trip was the perfect opportunity. I'm really looking forward to seeing one of my friends in Florida that I haven't seen in almost a year," Betsy Marlow, fr., band and choir member, said. "Most of all, I'm excited for adventuring and taking in all that the 'Happiest Place on Earth' and Universal have to offer, with some of my best friends."
Some Cougars are spending time far abroad, such as members of Kennedy's orchestra. The orchestra is traveling with Washington's orchestra, as well as the members of the orchestra program from West Des Moines Valley. They will be touring Prague in the Czech Republic, the Austrian cities of Salzburg and Vienna, and making a stop in Munich, Germany.
"I'm excited to be able to play in several cathedrals in these cities, visiting Mozart's grave, and getting to travel to where they filmed the Sound of Music," Peyton McGuire, sr., said. "I also plan on buying an actual Austrian nutcracker and beer stein!"
Of course, some seniors just wanted to end their senior year with a bang, and so planned trips with their friends and significant others for spring break.
"Jackson [My boyfriend] and I are going to California. We are going with a few other people and we were thinking of maybe [going to] an amusement park. We're staying in a condo on Huntington Beach, but we plan to mostly just relax," Jazmine Loomis, sr., said. "We mostly are going because we wanted to do something for our senior year spring break and neither of us have ever been to California."