Mallicoat Steps Up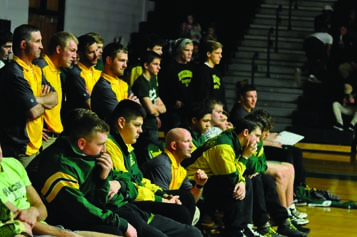 "Wrestling teaches you how to win and it teaches you how to lose. I coach wrestling because I love the sport and I want to teach others the sport. It's a lot of mental challenges, you compete against someone else but a lot of the time you compete against yourself," Craig Mallicoat anatomy teacher said.
Mallicoat has taught and coached at Kennedy for twelve years. He currently teaches anatomy and philosophy and formerly taught biology and chemistry.
Mallicoat former division one wrestler at the University of Northern Iowa has unexpectedly taken over as the Kennedy Wrestling Head Coach position. He will fill this role for a short amount of time until Coach, Dennis Hynek is able to return from his heart condition.
"Of course it was very surprising, because you never really expect somebody to have a heart issue," Mallicoat said. "But it hasn't really been a challenge because we work so well together and because our coaching staff is so united we know our plan and the direction we want to go."
Hynek does not attend practice but still helps write up plans and initiate them just as they always have. Hynek plans on being back towards the second week of January to continue the season with the wrestlers.
"We are really just trying to focus on getting the next point and taking each match one at a time without worrying about results," Mallicoat said. "Last year we got 13th out of 16th at our first tournament of the year and then we turned around and finished 4th in the state… it's a building process and we have to take it one step at a time."
"Our goal for the season is just to improve, improve every day, improve every meet, and be competitive in the final tournament," Mallicoat said. "We lack depth in some of our weight classes this year and that could lead to potential challenges down the road with possible injuries which isn't uncommon so we really hope our guys can stay healthy this year."
Last year Kennedy sent four wrestlers to state and is looking to improve that number this year despite potential challenges they could face.
"Our wrestlers know that we all have a say of what happens at practice and we all voice our opinions because we all have the same philosophy," Mallicoat said. "Not a lot has changed because the wrestlers know what we expect out of them and it has been a very smooth transition."
The Kennedy youth wrestling program is coached by Coach LeClere and is a big part of the Kennedy program according to Mallicoat. LeClere currently teaches economics, world geography, and government at Kennedy.
"We really have a great youth program and that allows us to spend less time on fundamentals with kids because they already know the basics," Mallicoat said. "The wrestling program here at Kennedy is one team, and our coaching staff comes together, and with Hynek being out it's not just one person's job."
Mallicoat played Baseball, Football, and Wrestled at Sterling High School in Illinois and stresses that wrestlers are multi-sport athletes.
"You can't listen to your body or your mind when it says you're tired, you have to be able to overcome those obstacles," Mallicoat said. "I feel you can get a lot out of wrestling for later in life and it's not about winning or losing but what you get out it."