Coach leads team to state
Roughriders Junior Varsity includes 24 area athletes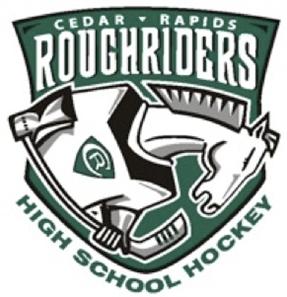 The Cedar Rapids High School Roughriders Hockey junior varsity team won 4th place at state tournament in Ames on March 6.
And maybe it could be because they have skilled players, or are just very talented, but assistant coach Jerry Herb thinks the team's success is due to a different factor.
"This team has talent, but because they've accepted each other," Herb said. They support each other. There are a lot of individuals with good character on this team, "that's from the top of the roster to the bottom of the roster."
Herb thinks a strength for the JV team is that they keep perspective about what they do and games they win.  Kennedy High School students that are team members include juniors Tyler Burgess, Ian Carlson, Cooper Johnson; and freshmen Ryan Carlson and Adam Sines.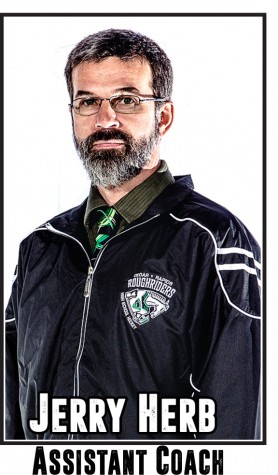 Herb believes that success of the team comes from team members' actions to each be a good person and at the same time give a full effort 100 percent of the time. Honesty, staying true to one's self, and hard work are important for students' success, he said. "I believe that there are challenges in life that are put there for you to overcome, so I think you should never get down about a challenge."
One of the challenges Herb's student JV recently faced was a losing streak of four games at the beginning of the season in November.
"We had to find our team identity," Herb said. "Once everybody realized, 'I have to do my job because my teammates, they are relying on me to take on my responsibility,' then they can come in and take care of their responsibilities. We really started clicking."
As a coach, one of Herb's jobs is to help students find their place on a team to understand their individual importance to the team. Another of his jobs as coach is to help players mature as adults. He tries to teach student players to reach their goals, whether in a sports or academic, or job environment. "Just helping them grow as people."
He might have had a little help learning how to teach these concepts as a parent to his own four kids. And in the parenting process, he found a new passion for coaching.
"I saw how much of an impact hockey had on my son's life," Herb said. "When I saw how much it impacted my son's life as far as growing up and being mature, the friendships that he built, basically how much he matured as an individual, and how much it helped him to grow, then I wanted to be part of that." This is one reason he decided to become a coach.
However, being a coach for a traveling hockey team also has its downsides. Herb has given up a lot of time with his wife because the time he must spend at the arena or traveling.  He also has missed a little bit of time away from his children and today misses out on some time spent with grandchildren. Even with all the frustrations and absences, but "it's still worth it."