Kennedy women's basketball adds another win to the streak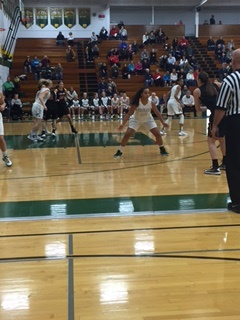 The Cougars took on the Linn-Mar Lions last night at home. The Cougars fought until the end and won the game 60-47.
Lela Sellers, sr., led the Cougars with 17 points.
"They are in the top ten and they are a big rival of ours," Linden Runels, sr., said, "It is important for us to play well against them because they are good competition for us."
The Cougars lost their first game of the season to Waukee, and have won the last eleven games in a row.
This was a very important game because both teams are ranked in the top ten in the state for 5A. The Cougars are ranked fourth, and the Lions are ranked ninth.
Both teams have very talented players. Lela Sellers of Kennedy leads the team with 212 points. She will play basketball at Liberty University.
Amanda Ollinger of Linn-Mar is a University of Iowa basketball commit and she leads the Lions with 133 points.
"Not only was this game important because it's a big rivalry, but it will help us with seeding for sub state and state."
The Cougar women's basketball team will play at Dubuque Wahlert on Friday.