Kennedy wrestling season underway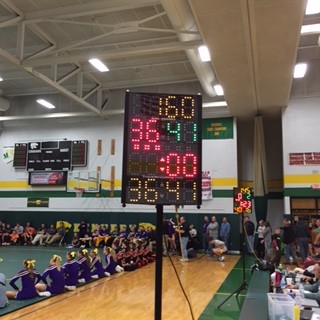 Kennedy wrestling is off to a 2-0 record in dual meets.
On Dec. 4 the Cougars traveled to Iowa City High for their first meet of the season. The Cougars won this meet to start their season off.
In the first home meets this season, the Kennedy wrestling team took on Cedar Rapids Xavier in a dual meet and brought home a victory. The final score was 48-30.
The team views this as a big victory for the Cougars because it was a rivalry match against a team whose school is just down the street.
Head coach of the wrestling team, Denis Hynek, likes the rivalry and the added competition.
"Everybody knows everybody over there. They know us and it's just fun getting together and getting after it. Lot more fun when you come out on top," Hynek said.
Kennedy wrestlers that won matches include Eli Benion, Fr., Austin McLead, So., Nolan Hromidko, Sr., Logan Rodriguez, Jr., Ben Sarisin, So., Todd Gusta, Sr., Garret Kubovec, Jr., and Sam Pape, Jr.
The Cougars took the lead early with a big pin by Benion at 106 pounds but Xavier battled back with victories at 113 and 120 pounds.
Kennedy quickly recovered and re-took the lead after another pin from McLead and Hromidko.
After that Kennedy maintained the lead and slammed forward with 30 straight points after pins at 152, 160, 182, and 195 pounds and a forfeit at 170 pounds.
"I like the fact that we got a lot of pins tonight," Hynek said.
Dalles Jacobus lost a tough match at 220 pounds after cutting about 20 pounds.
"I weighed about 240 before I started cutting but I managed to get down to 220," Jacobus said.
Hynek was pleased with the wrestlers performance but sees room for improvement.
"We wanted to see a lot of fight from every position we want to keep our hands and feet moving no stop in the action. We saw some signs of that tonight but you can tell it's still early in the season," Hynek said.
Great effort and fight are very important to Hynek. But he is still happy with the victory.
"I don't like the fact that we got pined quite a bit too. But we'll take then win anyway," Hynek said.
On Saturday, Kennedy hosted the Five Season Duels, a tournament that attracts some of the top ranked teams in the state.
After a tough loss to Cedar Rapids Prairie in the opening meet, the Cougars fired up and won their next four.
The Cougars took down Urbandale, Bettendorf, and Iowa City West to advance to the consolation finals and try for third place.
In a heart pounding contest Kennedy topped Linn-Mar 41-36. Kennedy was down by one point going into the 152 pound match.
Logan Rodriguez won that match and put Kennedy ahead by two points.
The last match would decide the victor, and Kennedy's Ben Sarisin, So. Would have to take on the top ranked wrestler in the state at his weight.
Sarisin won the match and the Cougars took third, the highest Kennedy has ever placed in this tournament.
This Thursday the Cougars will travel across town to Washington to take on the Warriors.