Cougar football ends their legendary season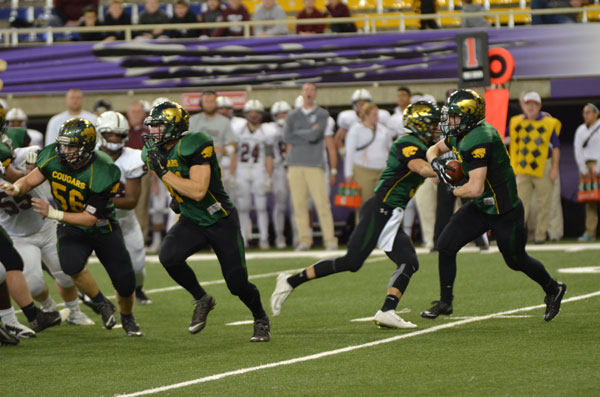 The Kennedy football team ended their record-breaking season last night. At 13-1, they won 13 consecutive games and had the best season in Kennedy High School history.
The Cougars faced West Des Moines Dowling in the state championship game and lost 41-10. Despite that loss, they carried through with a "family" motto and overcame adversity.
After the 2014 football season, the football team had a record of 3-8. They persevered, turned around their mindset, and made a huge comeback this year.
The 2015 football team had the best regular season record in school history, surpassing 6-0 (the previous record), and they went 13-0 going into the state championship game. They were also the first team at Kennedy high school to ever play for a state championship.
Not only did the team as a whole break records, but individual athletes did as well. Tyler Dralle, sr., now holds the metro rushing record, which means he has the most yards rushing in the history of any school in the city of Cedar Rapids. Dralle also broke school records such as the single season rush record, and touchdowns in a season.
To finish off the fall sports season, and celebrate the football team's success, the school gathered in the gymnasium. Coach Brian White and Athletic Director Aaron Stecker both thanked supporters and spoke highly of all the young men on the football team. Both White and Stecker agreed- Cougar Nation had an impeccable season that will be remembered forever.