Fluent named Divisional Player of the Year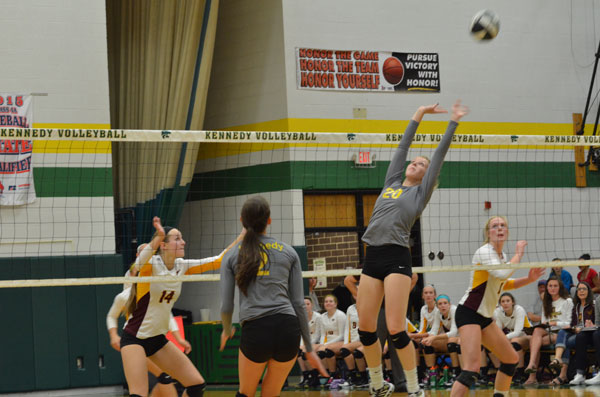 Setter Anna Fluent has been playing volleyball since she was 9 and today she was named MVC Valley Divisional Player of the Year. For the past three years Fluent has been a part of the Kennedy Varsity volleyball team. She is a three year letter winner in the Kennedy athletic program. Fluent is involved in club and school volleyball along with joining the tennis team her sophomore year and participating in track during her freshman year.
On March 8 2015 Fluent committed to continue her career in 2016 at the University of Loyola Chicago. She choose Loyola over Sioux Falls, Nebraska-Omaha, and Northern Illinois. The Ramblers volleyball team is currently 19-6 this season. Fluent not only fell in love with the volleyball aspect, but also the campus.
"When I was on campus for the first time I loved everything about my visit. They also have great biology and nursing programs which is what I'm interested in majoring in," Fluent said. "The coaches are awesome and I love their coaching style, and I got along with all of the players really well. I knew it would be a great fit."
Fluent has made first team all conference three years in a row. Her sophomore year fluent was also named first team all metro. Fluent's junior year looked about the same with first team all metro, 5A East All District Team, and All State Honorable Mention.
Fluent helped lead the Cougars Tuesday night against Ankeny winning in three sets. The team will move on to their first state tournament appearance since 2011. The Cougars will play Cedar Falls Tuesday at 2 pm downtown at the U.S. Cellular Center.
Fluent averages 8.81 assists per set, 1.25 kills per set and has a .358 kill efficiency.
"Winning this award has been such a huge honor. I couldn't have done it without my amazing teammates and coaches," Fluent said.