Cougar athletes train over the summer for next season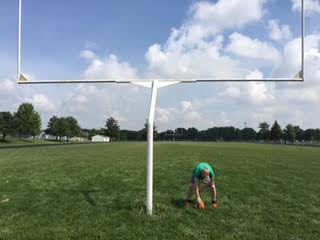 Parker Lloyd, jr., spends almost every morning in the summer playing football and perfecting his game. Football trains for two hours daily over the summer, along with several other fall sports.
"I think overall, summer training helps because it gets me better prepared for the season and it helps me stay stronger," Lloyd said.
Because the fall sports season begins a few days after school starts, most athletes train every day in preparation.
Kennedy has seven fall sports: volleyball, dance team, football, women's swimming, women's diving, cross country, and men's golf. For many people summer training requires getting up early and missing social events for practice.
"Summer training increases my skill as an individual, and my ability to play with other people," Gabbie Meyer, so., said. "They also increase my strength, speed, and core." Meyer is a varsity letter winner for the Cougar volleyball team.
Training for sports over the summer takes up hours of athletes' time during the week.
"Practices are in the morning so I still have to wake up early and go to bed earlier," Lloyd said. "It makes it hard to go on vacation or leave town."
The men's golf team plays many rounds over the summer. The women's swimming and diving teams also train every morning for an hour and a half.
The Cougar dance team practices around three hours in the summer each day. "We run, practice our dances, and go over parts of our routines in small groups in the choir room," Alli Maiers, jr., said.
The Kennedy dance team not only performs at sporting events, but they prepare all summer for competitions in the fall.
For the volleyball team, their first game is within the first week of school. "Without summer training we wouldn't be ready for the season," Meyer said. "Volleyball also has summer tournaments, so it is important to play as a team before the season starts."
"Our season is short and we need this lead in to compete, volleyball is an incredibly tough sport," Head Volleyball Coach, Michelle Goodall, said. "Honestly the reps are needed to get to the level of play we need/desire to reach to compete in our conference and at the state-wide level."
Although summer training has proved to be beneficial for these three athletes, it is optional. According to IGHSAU.org, summer workouts cannot be made mandatory, and must be voluntary.
"Summer workouts are not mandatory, but the majority of our athletes appreciate and take advantage of these opportunities to make gains," Goodall said.
While some sports are indoors, football and golf have the weather to worry about.
"The conditions during the summer help prepare players for the heat that is going to be experienced when we put the pads on," Lloyd said. "It can get hot with all the football gear we have to wear."
Because of the heat and long practices, in 2013 IHSSA.org released that you could only have one preseason practice per day, with a maximum time of three hours.
That drastically changed the way football went about their summer training; two-a-days were no longer allowed. Now summer football practices are usually around two hours long.
The state has also regulated the amount of contact football players can have, which means no tackling. Summer practices for football players are focused on offense and defense, and staying in shape.
For some athletes, they couldn't imagine their summers without it.
"Not only do I get to improve my volleyball, but I get closer with the girls in the volleyball program," Meyer said. "I get to play volleyball all summer with some of my favorite people."
"Summer practices are extremely beneficial," Lloyd said. "It helps keep us in shape so players can be fully prepared for the first game."