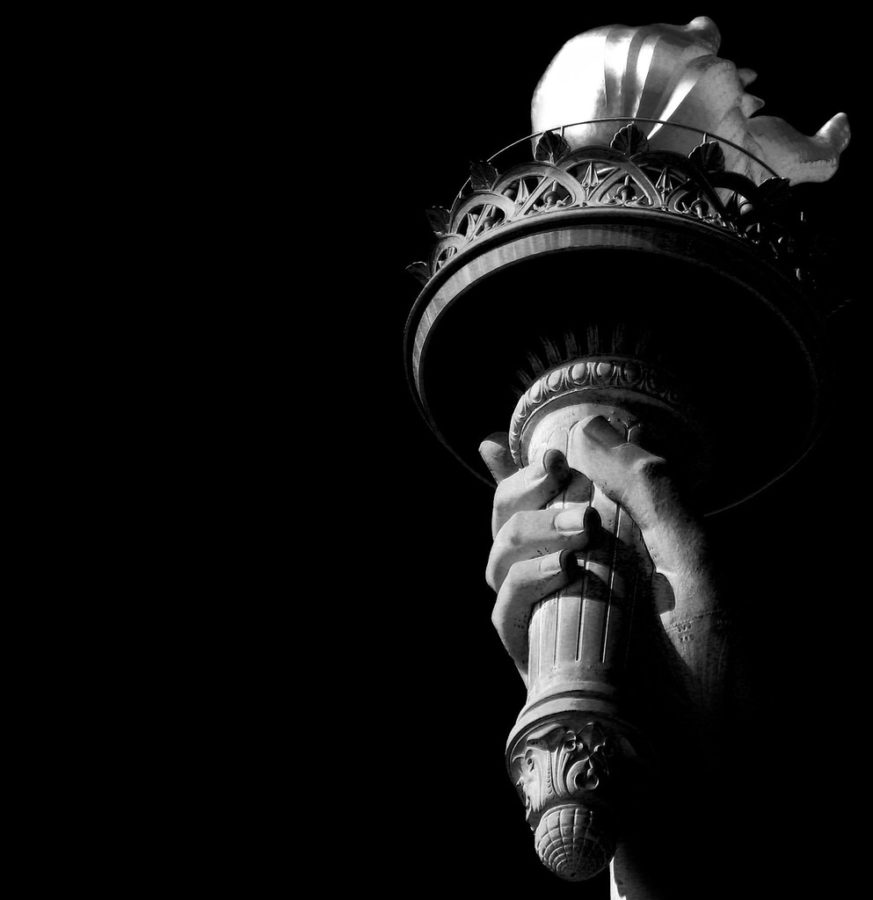 "Statue of Liberty Torch - New York City" by Mike Clarke Photos is licensed under CC BY 2.0
After COVID-19 engulfed the world, the Midwest derecho followed closely behind. The Kennedy High School student newspaper, The Torch, struggled to produce meaningful content in the months afterward. They eventually found their footing once again.
A community was built among the staff, which made it difficult for them to communicate while online classes took place during the first semester at Kennedy. Being strictly online did not help the students with their producing dilemma, which consisted of conjuring up ideas that were non-COVID-19 related. It was hard because COVID-19 was and still is, one of the main topics of conversation across the world.
Steven Tolly, Torch adviser, helped the students work through the 2020-2021 school year by pushing them to be their best. He provided articles about ways to improve their journalism skills and brought journalists from The Gazette to talk to the students. Tolly shares his opinions and is honest with the students and what they can do to make their content better. 
As the adviser of the group, Tolly held in-person photography lessons in October for Torch staff. It consisted of chickens, babies and safe distances from one another. He wishes to hold another photography session soon.
"Motivating students was hard during the pandemic. The allure of doing nothing was far greater than anything I could offer," Tolly said. "However, as the year progressed, we moved forward and started focusing on creating content that was important."
During the first half of Hrabik's high school career, she only took required classes, ignoring extracurriculars. When her junior year came around, she decided to step outside her comfort zone. 
Hrabik took a photography class taught by Tolly, who convinced Hrabik to join the Torch staff. By joining, she could focus on two things she enjoyed: writing and taking photos.
"I think this year has pushed us to produce above all obstacles, which will make it easier for the next classes to produce more in the absence of these obstacles," Hrabik said.
Hrabik did not mind or care that school was strictly virtual during the first semester; Coordination with other Torch members was easier. But, after hybrid scheduling went into effect, she has found it harder for her to stay motivated. 
"Torch has given me opportunities I wouldn't have had without it," Hrabik said. "I am truly grateful for the confidence, friendships, and experiences I have gained."
Hrabik is not the only member of Torch staff to have their 2020-2021 school year flipped over. 
Torch newcomer Lizzy Hawkes, fr., knew she wouldn't have the normal experience, but that did not change her decision to join the program.
 "You just gotta go with the flow," Hawkes said.
Torch provides students an experience to see a different side of Kennedy High School. It allows students to step out of their comfort zones and engulfs them in a unique student culture. The Torch is a family that consists of people who love and enjoy the same things. People who joke with the adviser, Steven Tolly, and vise versa. The class shows different sides of people and allows them to open up, to be their true selves.
If students are looking to join a laid back yet serious group that has food delivered from restaurants time to time, then Torch would be perfect for them.