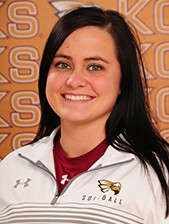 Coe College
"When I found out that the head coaching position was open, I submitted my application and resume, interviewed and found out I got the job in early November," Maddison LeClere said.
LeClere has been an assistant coach for the Kennedy softball team for six years working with all levels and is now underway with the Kennedy softball season as the head coach.
"I am very excited," LeClere said. "I have been with the program for a long time, and I've loved getting to know all the different players and families along the way."
She has been working with the game since her early school days. She graduated from Emmetsburg High School in Northwest Iowa where she played four years of softball. Following her high school career, she attended Coe College in Cedar Rapids and played softball another four years. She also played with many club teams, mostly in the pitching position.
LeClere believes the Kennedy team has a great season ahead and she has high hopes to bring home an MVC trophy this year.
"I feel like we have a very successful season ahead," LeClere said. "All of the players have worked very hard in the off-season and have put a lot of time in to get better."
For information about games and schedules, click these links for the Kennedy sports activities calendar and the Mississippi Valley conference standings.